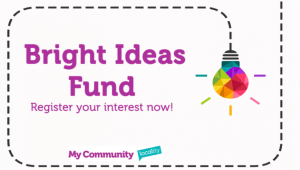 Thank you to SCVO for forwarding details of the following:
The two-year £1.85 million Community Business Bright Ideas Fund is jointly funded by Power to Change and the Department for Communities and Local Government. The programme will be delivered on their behalf by a consortium including Co-operatives UK, Plunkett Foundation and Groundwork UK, led by Locality.

The Community Business Bright Ideas Fund aims to give community groups and organisations in England the support and tools to start setting up their community business. It will also give them early stage finance they need to carry out consultation with local people and feasibility studies to develop a community business idea the community wants and needs.
The Fund offers a programme of support and grants of up to £20,000 to develop a community business idea. It is anticipated that the average award will be around £14,000 per organisation.
The support includes:
• Online induction and ongoing support, either online, by phone or where possible through visits.
• Community Business development plans, to help successful groups shape and develop strategies and plans for their community business.
• Mentoring and visits, to inspire applicants and give them the opportunity to learn from peers.
• Regional networking and events, to learn from social finance experts, successful community business leaders, funders and technical specialists.
Groups can register now on the Locality website. Once registered, they will be the first to receive the criteria and a preview of the application form.
Applications will be accepted from 30 September 2016 to the end of November 2016.
There will be additional funding rounds in February 2017, September 2017 and February 2018.
More information at: http://mycommunity.org.uk/2016/09/30/1-85m-bright-ideas-fund-launches-help-community-business-start-ups-england/
I trust this is useful and as ever, please feel free to circulate as you feel appropriate.
Kindest regards
Edwin