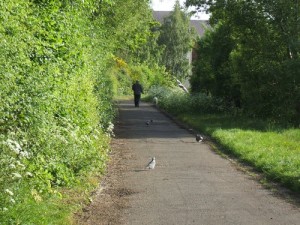 Commisisoned by the Birmingham & Black Country Community Foundation (BBCF), Wider Impact is delighted to deliver its report into the regeneration of the historic Haines Branch Walk.
The commission has involved extensive consultation with local people, which has included the use of questionnaires, one to one interviews, filming and Planning for Real exercises at the Great Bridge indoor Market and with pupils at Alexandra High School. We have also utilised our innovative 'Interactive Reporting' toolkit, which has involved filming local people in a 'Big Brother House' format'.
Our report, which has been professionally published can be viewed in a hard copy format, or in our innovative 'Interactive Reporting' page turning format, which includes You Tube access to a DVD. The DVD includes interviews with young people, wider community members, and background information to the Haines Branch Walk.
BBCF Chairman, David Bucknall says, 'It is evident that this report, which includes a number of well thought out recommendations, can play a positive role in supporting the wider regeneration of the Great Bridge area'.
Please click "Expand" below to access the innovative report.
If the viewer fails to load when using Internet Explorer, please click here