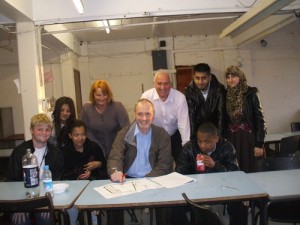 As part of the on-going development of the Alumwell Gateway Enterprise Centre, Wider Impact has been delighted to faciliate a 'Meet the Architect' Workshop within the planned Alumwell based Gateway Youth Drop-In Centre.
As will be noted by this photograph, Architect Akram Bonham (pictured centre / front row) of Catalyst Regeneration Ltd enjoyed a 'Frank and eye opening session with a group of young people who clearly know what they want'.
Walsall Local Authority Youth Manager Georgie Abbott (pictured second from left / back row), says 'This is just what young people value – an opportunity to have a say in what they need and value. It is has been a really useful exercise!'
Imam Ali Akbar says, 'We are grateful to Edwin Lewis of Wider Impact, Architect Akram Bonham, Youth Manager Georgie Abbott, and most importantly the young people for bringing along their expertise and commitment to what will be a worthwhile and valueable project to the wider Alumwell community'.
Wider Impact Director Edwin Lewis says, 'The Youth Drop-In Centre is due to open in time for the school holidays. Our work also includes supporting the development and delivery of the Gateway Enterprise Centre, which will include the delivery of a robust 5-year Business Plan and a number of significant funding applications written on behalf of the new Centre'.
Interested in learning more about this innovative project, which has been supported by the Birmingham & Black Country Community Foundation? Please email Edwin Lewis at edwin@widerimpact.com