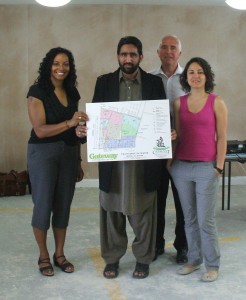 The Birmingham & Black Country Community Foundation (BBCCF) and Wider Impact Consultancy have been thanked for the support they have given for assisting in the formation of the Alumwell based Gateway Enterprise Centre.
Situated below the Minhaj-UI-Quran Mosque the Gateway Enterprise Centre will deliver a much needed community facility in the heart of a deprived local community.
The work delivered by Wider Impact has included extensive community and partner agency consultation, establishing a new community based Committee, drawing up Articles of Association, enabling formal plans to be created, delivering a Business Plan, and raising the funds to open a Youth Drop-In Centre (pictured), which forms 'Phase ONE' of the new Centre.
Pictured from left to right is, Dawn Carr, BBCCF Development Officer, Mosque Imam Ali Akbar, Edwin Lewis (Wider Impact) and Bia Carneiro (Community Foundation Network).
Gateway Enterprise Centre Chair, Aftab Nawaz says, 'The Gateway Enterprise Centre Board are extremely grateful for the support the Birmingham & Black Country Community Foundation and Wider Impact Consultancy have provided to enable the Youth Drop-In Centre to be opened.  The is the first step on our quest to enable much needed local facilities to be made available for members of the Alumwell community, no matter what their age, gender, faith or beliefs' .
Interested in finding out more – please email Edwin Lewis at edwin@widerimpact.com.