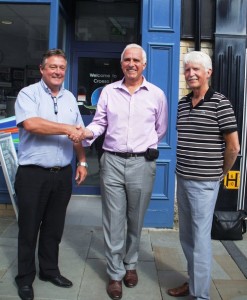 Wider Impact Director Edwin Lewis is delighted to agree the scope and conditions of the commission to carry out a feasibility study into the planned Porthcawl Harbourside Development – see link http://www.widerimpact.com/august-2013-press-release
Pictured centre, Edwin is looking forward to working alongside Directors, Michael Clarke (pictured right),  Stuart Bently (pictured left) and other members of the Project Team.
Edwin says, 'This is a challenging and exciting commission, and we are looking forward to working with such an innovative and forwarding thinking Project Team'.
Please contact Edwin at edwin@widerimpact.com if you feel you can add to the feasibility study, or are looking to commission Wider Impact to carry out similar work.