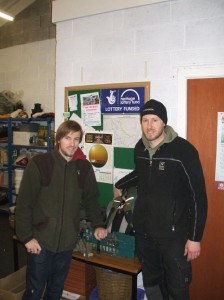 We would just like to say 'thank you' to Martin Evans (pictured right) Youth Officer and Matt Haynes, Trainee Youth Assistant (pictured left) of the Staffordshire Wildlife Trust for enabling our 'coal face' observational visit of a youth activity last week of the Heritage Lottery funded Youth Engagement Project being delivered by the Trust – see http://www.widerimpact.com/november-2015-wider-impact-commissioned-evaluate-staffordshire-wildlife-trust-youth-project .
It is so useful to see such projects 'in action', and we are looking forward to more of the same in relation to this Project.
Please do not hesitate to contact Wider Impact Director Edwin Lewis via our contact page if you feel you can add to this commission, or you are looking for similar support with your Project.
Kindest regards
Edwin