Wider Impact has published a 'groundbreaking' report into Groundwork Bridgend & Neath Port Talbot's youth provision.
Research has focussed on the Trust's youth provision over a 10 year period, which has demonstrated:
over 3,650 'at risk' young people have been engaged and supported by the YouthWorks programme
hundereds of young people have received vocational qualifications
98% satisfaction levels by the young people
over 60% of Community Volunteers achieving vocational qualifications
£440,000 savings in benefit claims over a 3 year period delivering the Future Jobs Fund
45% reduction in crime and anti-social behaviour
51% reduction of void housing stock
12,000 young people engaged in school energy projects
100% endorsement from key stake holders
Most significantly we have carried out specific research into the 'cost benefits' of engaging with 'at risk' young people. For example, case studies have highlighted an annual cost saving of over £204,000 as a direct result of supporting just one young man who was 'at risk' of involvement in crime and anti-social behaviour.
The First Minister of Wales, Carwyn Jones has provided a foreword for the report in his role as AM for Bridgend, and states, 'I am extremely impressed with Groundwork, and the YouthWorks Programme in particular, for the difference made on the Wildmill Estate, Bridgend… I look forward to witnessing other communities benefit from such an inspiring and worthwhile approach to community regeneration'.
Groundwork Executive Director Mark Evans says, 'We are grateful to Wider Impact and Director Edwin Lewis in particular for producing such a factual and informative report. They have gone the 'extra mile', and we now have a management tool that will support our strategic approach to youth delivery. Most significanlty this 'groundbreaking' report has provided costed evidence of the benefits of engaging with the most vulnerable members of society. I am confident others will benefit from this important document, and would not hesitate to recommend Wider Impact to others looking to commission similar work'.
Click on the report cover below to read report findings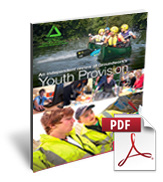 Please click here if you are looking to commission similar work.