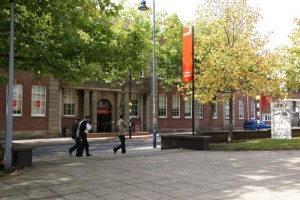 Well done to Reg Denley of Youth Works / Groundwork  Bridgend & Neath Port Talbot  (see link http://www.wales.groundwork.org.uk/bridgend–neath-port-talbot.aspx) for correctly idendifying the name and location of last weeks' Friday Quiz as the Scott Monument, Edinburgh. A bonus prize to Reg for knowing there are 287 steps to the top. Reg you have been 'Named & Famed'!
Onto this week's quiz – 'What is the name of this UK University?'
For a bonus prize – 'What is the name of the nearby 'world class' football club?'
Answers via this Blog please. 
A winner will be drawn out of my hat and have the opportinity to be Named & Famed on this site
Good Luck!
Kindest regards
Edwin