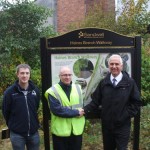 Well done to Elizabeth Baker of Cannock District Council for correctly identifying our last Friday Quiz location as Whitby. Elizabeth, you have been 'Named & Famed'!
Onto this week's Friday Quiz, 'In which Black Country town is the Haines Branch Walkway situated? – you will note our being thanked this week for our Project Management  support in the refurbishment of the Walkway.
Answers via this blog please, and a winner, who will be drawn out of my hat will have the opportunity to be 'Named & Famed' on this site.
Good luck!
Kindest regards
Edwin