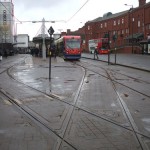 Well done to Matt Haydock of Absolute Ecology (see company link http://www.absoluteecology.co.uk/) for correctly identifying the location of last Friday's Quiz as Edinburgh, where we have recently been supporting the local MS Centre.  Matt you have been 'Named & Famed'.
Onto this week's Friday Quiz, which is a photograph of a West Midlands based City where we have been working this week. 'In which City is this photograph taken?'
Answers via this blog please, and as usual, a winner will be drawn out of my hat, and have the opportunity to be 'Named & Famed' on this website.
Good luck!
Kindest regards
Edwin