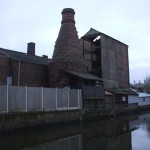 Well done to Ellie Harman of Howell Shone, Chartered Insurance Brokers (http://www.howellshone.co.uk/) for identifying the location of our last Friday Quiz as Bilston Street Wolverhampton.  Ellie, you have been 'Named & Famed'.
Onto this week's Friday Quiz – 'What was this building used for, and for a bonus point, where is it situated?'
Answers via this Blog please, and a winner who will be drawn out of my hat will have the opportunity to be 'Named & Famed' on this site.
Good Luck!
Kindest regards
Edwin