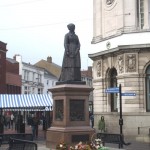 Well done to Dan Stubbs, Director of Inspired Film and Video (see http://www.inspiredfilmandvideo.co.uk/) for correctly identifying the location of our last Friday Quiz and a Bottle Oven in Stoke.  Dan – you have been 'Named & Famed'!
Onto this week's Friday Quiz.  We are working a lot in Walsall (West Midlands) at the moment, and came across this statue of 'Sister Dora'.  'Who was Sister Dora, and why does she justify such an impressive statue?'
Answers via this Blog Page please, and a lucky winner who will be drawn out of my hat will have the opportunity to be 'Named & Famed' on this site.
Good luck!
Kindest regards
Edwin