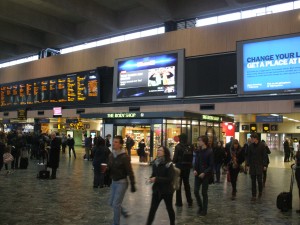 Well done to Jessica Clare of Archbishop McGraph Catholic High School, Bridgend, South Wales (see link http://moodle.bridgend.gov.uk/archbishopmcgrath/) for correctly answering our last Friday Quiz, as 'Sister Dora … and we should all follow her example'.  Jessica you are a credit to your mum, dad and school!  You have been Named & Famed'.
Onto this week's Friday Quiz.  We have been travelling the Country visiting clients.  From this photograph, which train station have we been travelling through?
Answers via this blog please, and a winner who will be drawn out of my hat will have the opportunity to be Named & Famed on this site.
Good luck!
Kindest regards
Edwin