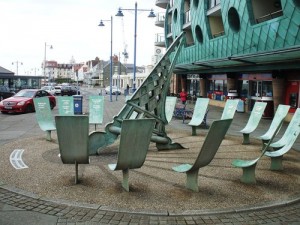 The Friday Quiz is back by popular demand (you know who you are!)
Well done to Susan Dawson for correctly identifying Josiah Wedgewood's grave situated within St Peter ad Vicula Churchyard in the centre of Stoke on Trent.  Susan, you have been 'Named & Famed'.
Onto this week's Friday Quiz.
Click on link http://www.widerimpact.com/august-2013-press-release to find out where we are currently working, which will provide a major clue where this art work is situated.
The question is – 'What does this art work signify?
Answers via the blog please, and a winner, who will have the opportunity to be 'Named & Famed' on this site will be drawn out of my hat.
Good luck!
Kindest regards
Edwin