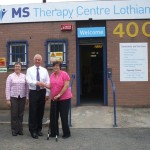 Wider Impact has been thanked for its support in carrying out an independent feasibility, aimed at informing the future direction of the MS Therapy Centre Lothian.
The commission involved intensive desk research and wide reaching field research that included questionnaires, meetings with key stakeholders and observational studies.  Our work has been presented within a confidential report, which contains a summary of our findings and a number of key recommedations, which we are confident will enable the organisation to move forward in areas such as governance and strategy.
Chair Carole Macartney (pictured far right) says, 'It has been useful to have all this information in one place, and to view it through the eyes of an objective outside perspective.  We have already set up two working groups to take forward governance and strategy. There is still much to be done, but I sence an enthusiasm amongst Trustees to act and make things happen'.
Interested in commissioning Wider Impact to carry out similar work?  Please email Edwin Lewis at edwin@widerimpact.com.