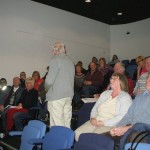 Wider Impact is delighted with the response to the seminar delivered on behalf of the Walsall Fair Share Trust Panel and the Church at Juntion 10, at the Innovation Centre on the Alumwell Estate, Walsall.
Over 40 delegates representing agencies such as the local authority, the Birmingham & Black Country Community Foundation, West Midlands Police and Walsall Housing Group were joined by local residents and representatives of local community and voluntary sector groups. 
Outcomes included an agreement for Wider Impact to coordinate a meeting of local groups and community representatives, with aims that include exploring the potential of appointing a Local Coordinator on the Alumwell Estate.  The Birmingham & Black Country Community Foundation / Fair Share Trust has agreed to support and fund such an initiative, which Interim CEO Shamiela Ahmed describes as, 'A positive move to ensure Fair Share Trust funding and support continues to leave a lasting legacy in the area'.
Walsall South Area Manager, Denise Perry says, 'I thought the event went very well and was positive, which is what we hoped for moving forward'.
Interested in supporting the work on the Alumwell Estate? Please email Edwin Lewis as edwin@widerimpact.com.
Click on the following link to learn more about the work of the Fair Share Trust - see http://www.fairsharetrust.org/index.php/learning/article/walsall/