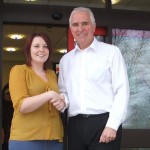 As part of our 'Growing Local Talent' strategy, Wider Impact is delighted to offer an opportunity to a local student to gain valuable work experience, enabling her to be ready for ever competative work places.
Wider Impact Director Edwin Lewis (pictured) has appointed Elizabeth Day, a 3rd year Business Studies student at Staffordshire University, as our 'Research Associate', with a particular brief to support research into our 'Women in Sport' commission-see link http://www.widerimpact.com/october-2012-wider-impact-commissioned-to-research-young-womens-involvement-in-physical-activity-competitive-sport .
Edwin says, 'Elizabeth will be our third Intern and we are delighted to play our part in helping her to gain a future foot hold in what is currently a highy competative work environment for graduates. I am most impressed with her initiative in approaching us via LinkedIn'.
Further details about Elizabeth can be found on link http://www.linkedin.com/profile/view?id=171388018