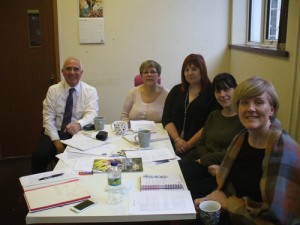 Wider Impact is delighted to be commissioned to work with Newcastle (Staffordshire) based Alice Charity   //alicecharity.com/  to carry out a needs analysis and outcome setting to support future funding applications and joint working aimed at the following target group:
Stoke on Trent and Newcastle based young women aged 21 years or younger, with families, who are vulnerable / potentially vulnerable in relation to issues linked to their mental health / general health/ well-being, poverty and isolation.
Wider Impact Director Edwin Lewis (pictured) says, 'This is a really important commission to us as we have been given the opportunity to support such an amazing and inspired group of people deliver what is needed to support such a vulnerable group of people.
Our approach is to with with the delivery team (pictured), supporting them in the process to further enhance their capacity and capabilities to deliver such work in the future without such external support'.