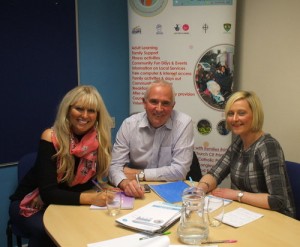 Wider Impact has been thanked for the delivery of an independent evaluation of the Big Lottery, Tipton based SinglePlus Plus Project.
Project objectives agreed with the Big Lottery are:
Families have better access to activities and opportunities to reduce social isolation.
Parents have improved independence leading to enhanced economic wellbeing.
Families spend more quality time together to strengthen family relationships and improve wellbeing.
Families living with multiple and complex needs get the support they need to improve their confidence and parenting skills.
In no particular order, the following good practice is noted:
o  The SinglePoint partnership – a partnership between four primary schools, enabling open dialogue, joint working, information sharing, joint problem solving and innovative approaches to developing social challenges and opportunities
o  Management and leadership – provided by the SinglePoint Board and the SinglePoint Managers
o  The SinglePoint approach, in close partnership with form teachers and other school staff, providing a single point of contact and bespoke, long term, often immediate 'wrap around' support service for service users and wider family members
o  The SinglePoint Centre / Hub, which is centrally placed and easy to access by service users and partner agency members. Facilities / rooms are well thought out and fit for purpose
o  The SinglePoint team – hard working, multi-skilled professionals, who work in close partnership, providing a non-judgmental and friendly service to often vulnerable service users and family members
o  Partnership working with multi-agency colleagues and departments, all of whom interviewed and surveyed having the highest regard for the SinglePoint Project / team
o  Financial assistance to support course fees / resources / childcare, enabling benefitting parents to access higher education courses
o  The provision of affordable trips / visits to local and national attractions, which is enabling families to 'get of out of their houses', enjoy 'family time' and wider social / community interactions
o  A partnership with a number of the participating schools that enables the provision of subsidised / affordable breakfast / after school clubs and holiday provision, which is enabling parents to work, with outcomes that include financial independence, reduced reliance on benefits and positive feelings of 'self-worth' and well-being
o  Progress made by those pupils whose parents are being supported by the Project
Value for money – SROI:
Linked to the current Project having supported 55 similar families with multiple and complex  needs, it is not unreasonable to estimate social care savings achieved by the Project being in  the region of £3.2m annually, reaching £9.5m over the period of the Project.
Wider Impact Director and report author Edwin Lewis (Pictured centre) says, 'It is always a pleasure to deliver such a positive report, which hopefully does credit to all those involved in the development and delivery of this excellent Project. Opportunity is taken to thank Project staff, volunteers, multi-agency partners and all those involved in the delivery of these reports for their valuable time. 
 SinglePoint Plus should be regarded as a 'jewel in the crown' of the Oldbury area and immediate steps should be taken to ensure its continuation beyond current funding periods, with a key objective of retaining the current team of dedicated and highly experienced professionals, who provide a unique, bespoke and value for money service to the area's most vulnerable families'.
Project Managers Lisa Harrison and Eve Loveridge (Pictured) say: 'We like to thank Wider Impact and Edwin Lewis in particular for such well presented reports that reflect so positively on a project we are very proud of. Once again Wider Impact has captured the spirit and uniqueness of SinglePoint Plus as a continuation of the original SinglePoint Project Wider Impact worked with us to evaluate in 2014. We are really pleased with the reports and once again Edwin and his amazing team for their professionalism and hard work! We would certainly not hesitate to recommend Wider Impact to others looking to commission similar work'.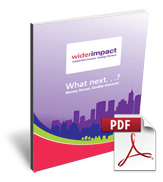 Please click on the image above to access Wider Impact's full report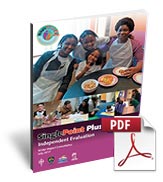 Please click on the image above to access Executive Summary report
Looking to commission Wider Impact? Contact Wider Impact Director Edwin Lewis at edwin@widerimpact.com