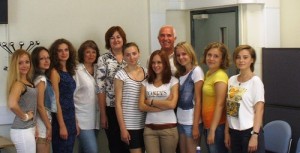 Wider Impact Director, Edwin Lewis is delighted to deliver a presentation about Multi-media in the UK to a group of students and lecturers from Ukraine's Mariupol State University. 
The students are in the UK as part of a study tour organised by Henson Editorial Services (North Staffordshire Press).
Senior Lecturer (English Philology Faculty) Helen Plotnikova says, 'It was so useful to hear Edwin's presentation, which covered an important subject. It was also useful to be able to ask Edwin about key issues in the UK, which we will take back with us and learn from'.
Edwin says,'It has been a pleasure to pass on our knowledge and experiences to such an informed and inspirational group of young people, who are clearly benefiting from their time in the UK'.
Looking to learn more about our presentations and services? – please contact Edwin Lewis at edwin@widerimpact.com