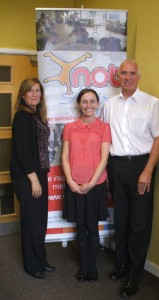 Wider Impact is delighted to be commissioned to independently evaluate the Big Lottery funded Ynot Aspire Project (see https://ynotaspire.org.uk/).
The charity's vision is 'To raise the aspirations of young people and inspire them to be all that they can be'.
Pictured with Sharon Burch, Chief Officer (left) and Paula Swainston, Project Support Officer (centre), Wider Impact Director Edwin Lewis says, 'Whilst it is still early days in the evaluation process, I am certainly impressed with what I have seen so far. This is clearly a well organised Project, with an impressive portfolio of projects and activities. I am looking forward to learning more, which in addition to quantitative research, will involve qualitative research tools such as meeting with and taking due note of what young people have to say. We will also be meeting with and contacting Project volunteers and representatives of multi-agency partnership organisations.
I ask that anyone who feels that they can contribute to our work should contact me direct at edwin@widermpact.com