Wider Impact has been thanked for delivering an independent evaluation of Big Lottery funded Dudley based Loaves N Fishes ( https://www.loavesnfishes.co.uk/) Project.
A methodical approach has been adopted, which has included:
o   Desk / Quantitative research – to gain an understanding of internal data and information that relates to the Project's performance and future, such as the achievement of outcomes and related performance indicators
o   Field / Qualitative research – which has been intensive, and has included one to one meetings, interviews with the CEO, partner agency members, Project staff and other key stakeholders. Opportunities have also been taken to utilise bespoke questionnaires aimed at service users, Project volunteers, partner agency members and in-depth case studies
Findings
Based on quantitative and qualitative research findings there can be no doubts that, overall the Project has been a success in terms of outcomes and performance indicators agreed with the Big Lottery.
Funding provided by the Big Lottery has been extremely well-spent and has certainly made positive social and economic differences to hundreds of vulnerable local people.
As a direct result of Big Lottery funding, the hard work and commitment of all those concerned and the organisation's innovative move to new premises, Loaves N Fishes is clearly establishing itself as a respected and highly valued multi-agency lead partner in its areas of operation, which is worthy of continued funding and support from external organisations.
Social Returns on Investments (SROI)
Whilst such research has not been a part of this brief, previous research carried out by Wider Impact Consultancy has estimated an annual social care cost of £57,799.00 with regardto one family similar to a case study highlighted in this report.
Taking this further, linked to the current Project having already supported 155 similar families  with multiple and complex needs, it could be reasonable to estimate current annual social care savings of £8.9m delivered by this Project as a result of Big Lottery funding.
Recommendations
Based on research findings, the following recommendations are tendered:
Those involved with the delivery of such a successful the Big Lottery funded Project should be congratulated for the hard work, expertise and commitment.
A key priority must be the ongoing development of the Provision House building, which has the potential to enable financial independence for the organisation and positively influence the front-line delivery of much needed multi-agency support systems in its areas of operation.
The CEO should continue to works strategically with the Local Authority and partner agency members, with aims that include enhance 'joined up' multi-agency working and consortia based initiatives.
Building on the successful achievement of around 80% financial independence, an aim should be as close to 100% financial independence with 3 years.
The organisation should continue to enhance and develop the levels and quality of 'wrap around' support offered and provided to vulnerable community members.
The organisation should likewise continue to enhance and develop the levels and quality of support offered and provided to those attending volunteer placements / work experience; with clear and measurable outcomes that include employment, training and entry into further education.
Approaches should be made to the Big Lottery and other key funders to support recommendations 2, 5 & 6.
Linked to the successful delivery of the Project opportunity should be taken to host a high [media] profile multi-agency celebration event at the end of the Project, when opportunity can be taken to celebrate successes, enhance local partnership working, 'showcase' the Provision building and thank all those who have played their parts in making the Project such a success.
Mark Price CEO says, 'We are extremely grateful to Wider Impact and Director Edwin Lewis in particular for the amount of hard work and commitment that has gone into this commission over a number of years. Time and care has been taken to get to the heart of this project and our organisation as a whole. We are delighted with this report and have no hesitation in recommending Wider Impact to others looking to commission similar work'.
Wider Impact Director Edwin Lewis says,  'It is always a pleasure to deliver such a positive report, which hopefully does credit to all those involved in the development and delivery of this Project. Opportunity is taken to thank the CEO, partner agency members, Project staff, service users, volunteers and all those involved in the delivery of this report for their valuable time'. 
Please click here to access the report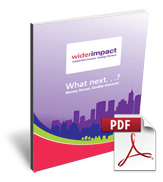 Looking to commission similar work? – Please contact us and we will get back to you within 24 hours.