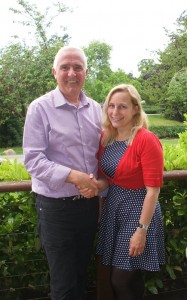 Wider Impact has been commissioned to carry out an independent evaluation of the North Stafforshire Chamber of Commerce & Industry 'Let's Do Boosting Business' project.
Wider Impact Director Edwin Lewis says, "We are extremley pleased to have been selected to evaluate such an important project and are looking forward to delivering an informative final report, which will be innovative in its presentation'.
NSCCI Business Services Manager, Adele Cope (pictured) says,'We are looking forward to working with such an experienced and well regarded company, which has the quality of approach we were looking for to deliver an independent over view of the Let's Do Boosting Business project.'
Interested in contributing to this commission, or commissioning Wider Impact to cary out similar work? Contact Edwin Lewis at edwin@widerimpact.com.