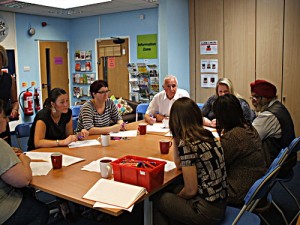 Building on our independent evaluation of the Oldbury based SinglePoint Project (see link http://www.widerimpact.com/may-2014-wider-impact-commissioned-evaluate-single-point-project ) we have worked with the client to introduce 'peer-led' evaluation into the commission.
As this photograph highlights, we have met with the newly formed SinglePoint Family Network Group, who have kindly agreed to work closely with Wider Impact Director, Edwin Lewis (pictured centre). Key tasks are including designing / piloting a community questionnaire, encouraging their peers to complete the questionnaire and become involved in the evaluation; and most significantly receiving training to act as 'Advisors' to those who may experience difficulties in understanding and completing the questionnaire.
Edwin says, 'Our experience has shown us that peer-led evaluation such as this is most likely to deliver balanced and representative results. I am really impressed with the enthusiasm of the group, and am looking forward to working with them over future weeks'.
Please do not hesitate to contact us if you feel you can add value to the evaluation, or would like to find out more about this approach.