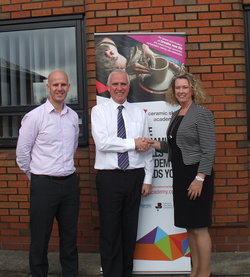 Wider Impact has been praised for the quality of our innovative independent evaluation of the UKCES funded Ceramic Skills Academy Project, which has aimed to grow the proportion of businesses in the ceramic industry investing in skills training for the workforce.
Our report has identified good practice, which includes:
collaboration and participation of key multi-agency stakeholders
the appointment of a skilled and dynamic Academy Director, who has been supported by an excellent team
the creation of a concise industry data base
the creation of a high quality website (see www.ceramicskillsacademy.co.uk)
the ongoing development of a Ceramics Foundation Degree
the ongoing development of the Apprenticeship Trailblazer
expertise, support and structure provided to work place mentoring
It is apparent that the Project has become a 'pilot project', which has played a significant role in understanding what works, good practice and opportunities to improve the way partners can come together to achieve aims and objectives linked to the training and employment within the ceramic industry.
The Project has achieved impressive outcomes, which will enable real jobs and employment opportunities.
The Academy Director (pictured far right), Linda McQuade says, 'We would like to thank and praise Wider Impact, and Director Edwin Lewis in particular for the manner in which the evaluation has been researched and presented. A really good job has been done, and we would not hesitate to recommend Wider Impact to others looking to carry out similar work. The executive summary report, which features Augmented Reality AR is something really special, and we are so grateful to all at Wider Impact for their expertise and excellence in this area of innovation'.
Our report is featured in two formats:
1. Hard copy, (Click on icon below to view)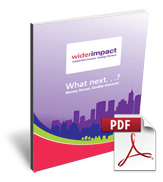 2. Executive summary  - featuring AR technologies (Click on icon below to view)
Wider Impact Director Edwin Lewis (pictured centre) says, 'It has been a pleasure to support such a worthwhile and important project, which will play a role in the growth of UK industry. We are delighted to include AR technologies into our executive summary report, and remain proud of our ability to be innovative and creative in the delivery of our work.
I ask that anyone who is looking to learn more about AR technologies, or looking to commission similar work to contact me via the below links'.