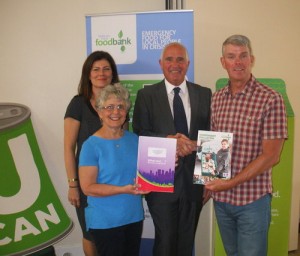 Wider Impact has been thanked for delivering our independent evaluation report of the Big Lottery funded Stoke-on-Trent foodbank project.
Wider Impact Director Edwin Lewis (pictured centre) says, 'There can be no doubts that the Project is a success in terms of it achieving the  outcomes agreed with the Big Lottery.  Project indicator targets have been exceeded,   and will be further exceeded when the Big Lottery funding ends on the 31 July 2017.
It is of course always a pleasure to deliver such a positive report, which hopefully does credit to all those involved in the development and delivery of this excellent Project. Opportunity is taken to thank Project staff, volunteers, multi-agency partners and all those involved in the delivery of this report for their valuable time.   
Most significantly, thanks are passed on to those service users / 'guests' of the Project who have bravely and unselfishly 'bared their souls' during the research period to ensure that their experiences are heard, and most importantly taken note of by those who have it in their gift to ensure that foodbanks are no longer needed in the future'.
In no particular order the following good practice is noted:
o   The collaborations between local Churches, which in addition to delivering Christian values, enables an accessible and highly efficient, audited distribution network within the City's most deprived communities, which for example includes 412 tonnes of donated food distributed and feeding nearly 50,000 local people – 38% (18,824) of whom being children
o   The roles and functions of the hard working  staff and committed volunteers
o   The leadership and strategic direction provided by the Board / Trustees
o   The role, functions and effectiveness of the Central Team, which includes project management, auditing, information / data management, internal communications, marketing, the development of innovative projects and initiatives, partnership / multi-agency working, training support and unlimited motivation, empathy and caring to Project staff and service users
o   The partnership / affiliation with the Trussell Trust, which includes two-way exchanges of data, information, training / support materials, good practice and lessons learnt
o   Led and steered by the Central Team, the extent of innovative multi-directional partnership / multi-agency working
o   The careful placing of volunteers into roles that suit their individual skills, experiences, abilities, aspirations and comfort zones
o   Practical, externally funded 'added value' projects and initiatives such as the City Council funded Salt Box  Money Matters Project and the School Holiday Clubs
o   The practical and much needed front-line support provided to service users / guests within the Food Distribution Centres, which in addition to the provision of emergency food includes non-judgmental [often bespoke] support, advice, 'hand holding', multi-agency referrals, signposting and empathy, caring and motivation
Pictured with outgoing Chair Sue Simcoe (front left) and incoming Chair Keith Stubbs (far right), Project Manager Anna Willcocks (rear left) says, 'We would like to thank Wider Impact Director Edwin Lewis and his team for this marvellous evaluation. The proffessionalism, commitment and attention to detail, combined with Edwin's personable character has been most valued by us. 
We could never have imaging at the start of this process that we would conclude with such a mine of information, presented so fabulously, enabling us to use as an effective tool to engage future supporters.
We certainly have no hesitation in recommending Wider Impact to other charities looking for similar evaluations to be carried out'.
Click on the image below to access the full report.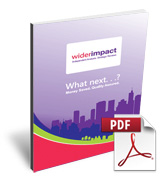 Click on image the image below to access the Executive Summary version of the report.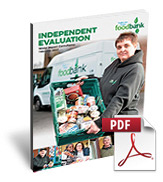 Click on the play button below to access the Augmented Reality (AR) video featured in the Executive Summary version of the report.