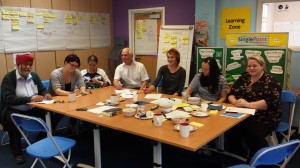 It has proved extremely useful to meet with and listen to the views and opinions of a number of Service Users as part of our independent evaluation of the Big Lottery funded Oldbury based SinglePoint Project (see link  www.widerimpact.com/may-2014-wider-impact-commissioned-evaluate-single-point-project ).
Such a 'coal face' approach involving interactive workshops is central to our approach, and one we are using to excellent effect in Oldbury.  We look forward to producing our final report by the end of October (watch this space).
Please don't hesitate to get in touch if you feel you can add value to the evaluation, or you are looking for support with a similar commission.
Kindest regards
Edwin