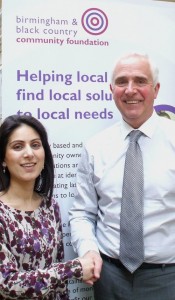 Wider Impact has been thanked for directly supporting the monitoring of over £1.8m Fair Share Trust Projects on behalf of the Birmingham & Black Country Community Foundation (http://www.bbccf.org.uk/).
BBCCF CEO Shamiela Ahmed (pictured) says, 'It has been a pleasure to work with Wider Impact Consultancy on the Fair Share Trust Programme.  We have been impressed with the organisation's thorough and professional manner when liaising with our clients. The feedback from our clients regarding Wider Impact's support to them has been exemplary.  We would not hesitate in recommending Wider Impact to others looking for support'.
Looking to commission Wider Impact to carry out similar work?  Contact Wider Impact Director Edwin Lewis (pictured) at edwin@widerimpact.com.