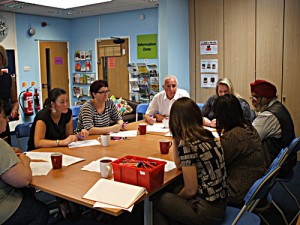 Wider Impact has been commended for the quality of our evaluation of the Lottery funded Oldbury based SinglePoint Project, which aims to deliver a range of recreational, educational, enrichment and support activities for children, families and local community members. 

Methodology included desk research and extensive field research, which as this photograph highlights, included meeting, surveying and interviewing Service Users, members of the wider local community and other key stakeholders.
Findings include a number of recommendations, which aim to assist in securing the sustainable future of this excellent and worthwhile project.
Community Involvement Managers Lisa Harrison and Eve Loveridge  say, 'We would like to commend and extend a huge thank you to Wider Impact. The independent evaluation process has been hugely beneficial for the SinglePoint Project, our Staff Team and ultimately the people who access our services. The insight, and reflection of the Project has been invaluable.
Edwin totally understood the ethos of SinglePoint and was able to translate this into print and film.  His support has ensured that we are in a fantastic position to exceed our ambitious targets with a sound knowledge base and positive focus.
We would highly recommend Wider Impact to other Projects'. 
Our report has been presented in two formats:
1) Hard copy, (click on the icon below to view)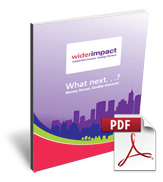 2) Executive summary using innovative Augmented Reality (AR) (click on the icon below to view)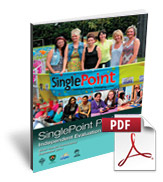 Please click on this link to access the innovative AR video, which provides an amazing oversight into the Project, and how Wider Impact brings such projects 'to life'!
Wider Impact Director Edwin Lewis says, 'It remains a pleasure and privilage to support such projects and initiatives, and use our experience and innovative reporting platforms to ensure that findings are available and accessible to world-wide audiences.
Please feel free to email me at edwin@widerimpact.com if you are looking to find out more about the SinglePoint Project, or are looking for Wider Impact to support your work'.