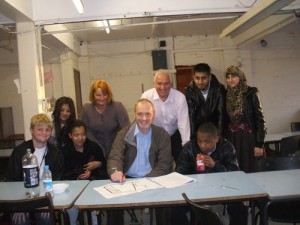 Following the successful 'Meet the Architect' event for young people at the Alumwell based developing Gateway Enterprise Centre, Architect Akram Bonham (pictured front row centre) of Catalyst Regeneration has submitted outline plans (Click here to view) for the Gateway Youth Drop-In Centre.
The plans, which have been approved by the Gateway Enterprise Centre Sub-Group will enable the Youth Drop-In Centre to be opened ready for the summer school holidays.
Wider Impact Director Edwin Lewis (pictured back row centre) says, 'We have been delighted to support and advise this innovative project that will enable first class facilities to be available to the young people of Alumwell. This however is the first phase of a community based development that will provide a 'gateway' to and from the Alumwell Estate, linked to enterprise, training, employment and wider based community based facilities and activities'.

Wider Impact's work has been supported by the Birmingham & Black Country Community Foundation.