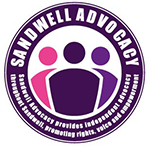 Wider Impact is delighted to be thanked for our role in supporting West Midlands charity, Sandwell Advocacy with its Business Planning process. Funded by the innovative Lloyds Bank Foundation Enhance Programme, the commission has involved working closely with Trustees, Project Coordinator and frontline staff.
The following is a testimonial received from the charity:
'I wanted on behalf of all connected with Sandwell Advocacy to thank you for the support you have provided as part of our recent business planning activities.  It has been really useful having someone from outside of the organisation working with us to identify our key strategic priorities and casting a critical eye over the work we have produced as we went along.  The whole of the team have enjoyed working with you from our Chair and Trustees who you met with and supported to focus on what is important, to the staff team who you facilitated a workshop for to enable them to feel fully part of the process.  I have personally enjoyed working with you and feel that we have a much more robust strategy and plan in place going forward thanks to your expertise.
 I know that you have offered to be there for us should we need to come back to you, this is very much appreciated.
 I hope that we can keep in touch and that you continue to take a keen interest in the fortunes of Sandwell Advocacy in the future'.
With Kindest Regards
 Dave Bradshaw
Project Co-ordinator,  Sandwell Advocacy
Please do not hesitate to contact us using the below link if you feel we can assist your organisation in a similar manner.