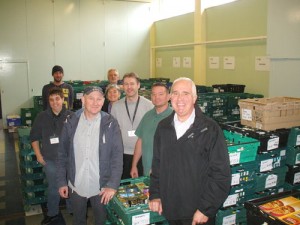 It has been a privilege and a pleasure to meet members of the the Stoke on Trent Foodbank team today as part of our independent evaluation of the Big Lottery funded Project (see http://www.widerimpact.com/october-2016-wider-impact-commissioned-independently-evaluate-big-lottery-funded-stoke-trent-foodbank-project ).
Pictured with Warehouse Coordinator Jon Bennett on my right and the rest of the team, who include a number of amazing volunteers, I learnt so much about about how food is received, carefully weighed and efficiently distributed to the Distribution Centers across the City of Stoke on Trent.
A big thank you to all!
I am looking forward to continuing the evaluation process and ask anyone who also feels that can contribute to our work to contact me.
Kindest regards
Edwin :-)