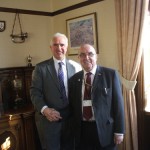 Wider Impact Director Edwin Lewis has met with the Mayor of Walsall, Cllr Dennis Anson (pictured right) in the Mayor's Parlour, and agreed that Cllr Anson will chair the Alumwell 'What Next?' Community Event, to be faciliated by Wider Impact on behalf of the Church at Junction 10 and the Fair Share Trust on the Alumwell Estate, Friday 25th January 2013.  
Edwin says, 'We are honoured that Cllr Anson has agreed to chair this important event in his role as local Councillor, and are looking forward to supporting the local community move forward and take full advantage of recent Fair Share funding'.
Please contact Edwin as edwin@widerimpact.com if you would like to learn more about the 'What Next?' event.