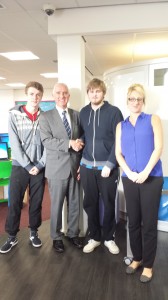 Wider Impact is delighted to sign up to and directly support the Careers Academies UK scheme – see link http://www.careeracademies.org.uk/.  A key aim of the scheme is to prepare young people for the world of work.
As highlighted by this photograph, Wider Impact Director, Edwin Lewis is mentoring two 6th Form students, Ben Gooding and Bradley Turner at St Thomas More Catholic College, Stoke on Trent.
Edwin says, 'Whilst it is early days, I am impressed with the Scheme and the college's approach to preparing its young people for work. My initial impressions of Ben and Bradley are extremely positive, and I am looking forward to supporting them over the coming weeks'. 
Head of Year, and Scheme Coordinator Katie Richards (pictured) says, 'We are so grateful to Wider Impact and Edwin in particular for giving up his valuable time to support our young people. It has already proven it works, and we would welcome the support from other local business people'. 
Please contact Edwin by completing the below fields if you would like to find out more about the Scheme.