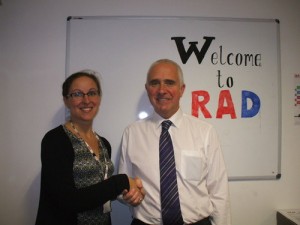 Wider Impact Consultancy is delighted to be commissioned by the Royal Association for Deaf People (RAD) (see http://www.royaldeaf.org.uk/)  to carry out an independent evaluation of the Big Lottery funded Deaf Achieve Project.
Project outcomes are:
Deaf people who are some distance from the workplace will become more employable by learning skills and attending job clubs
Deaf people who are isolated will have more opportunities to socialise and make friends
Deaf people will have better access to health information and use it to make healthier choices in their lives
Deaf people will be able to live more independently: able to travel, manage money and choose how they live
Pictured with Project Leader Natalie Creevy at a recent inception meeting in London, Wider Impact Director Edwin Lewis says, 'This is a really prestigious commission and one which has the potential to really make a difference to potentially vulnerable members of local communities. We are looking forward to working with RAD, and would welcome anyone who feels they can add value to the commission to get in touch with us'.
Interested in commissioning Wider Impact to carry out similar work? Please contact us using the below contact fields and we will aim the get back to you within 24 hours.