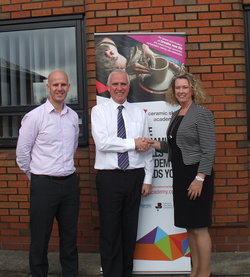 Wider Impact has been commissioned to carry out an independent evaluation of the Staffordshire Chambers of Commerce Ceramic Skills Academy programme (see link  http://www.ceramicskillsacademy.co.uk/).
Pictured with Director Linda McQuade (right) and Craig Walker (left), Wider Impact Director Edwin Lewis (centre) says, 'It is a privilage to be selected to evaluate such a prestigious and exciting programme, and we are looking forward to meeting with key stakeholders, which will include beneficiaries, leading local ceramic companies and educational establishments'.
Wider Impact will be utilsing the skills and experience of our Associate company, Smith Davis Press  (see link  http://www.smith-davis.co.uk/) to build the innovative AR - Augmented Reality into our final report presentations (see link http://www.ooh-ar.com/ ).
Looking to support the evaluation, or learning more about our approach? Please do not hesitate to contact Edwin utilising the contact form below.