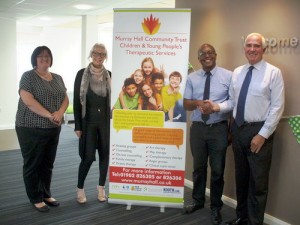 Wider Impact is delighted to be commissioned to independently evaluate the Tipton (West Midlands) based Big Lottery funded Looking Forward Project (see  http://www.murrayhall.co.uk/services/looking-forward/).
Looking Forward Coordinator, Leonard McDonald (pictured third right) outlines the Project – The Project works with children from the age of 5 to 18 years who are suffering from moderate to complex mental health issues who may have had suicidal thoughts, self harmed, or have been bereaved or subject to sexual abuse.
The Project also works with parents and carers of the children to offer support through family therapy sessions. A creative therapy programme including drama therapy, music therapy and art therapy will offer beneficiaries an alternative to talking therapies. A behavioural family therapy (BFT) programme gives families the knowledge, skills and insight they need to cope better with the issues in their lives.
Wider Impact Director Edwin Lewis (pictured far right with the Looking Forward team) says, 'This is clearly a worthwhile project, supporting vulnerable young people and their families. We are looking forward to carrying out this evaluation and ask that anyone who feels they can support our work to contact us here at Wider Impact'.