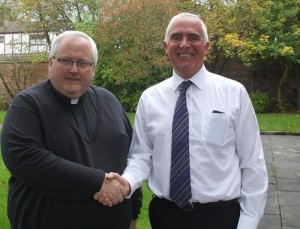 Wider Impact Consultancy is delighted to be commissioned to carry out a Big Lottery, Awards for All funded independent feasibility study into the future of the Stoke on Trent based, Golden Hill Community Centre.
Pictured with Father Julian Green of St Josephs RC Church, Goldenhill, Wider Impact Director Edwin Lewis says, 'It is a real pleasure to be commissioned to carry out such an important and interesting commission in our 'home town'. Working closely with Father Julian and key stakeholders, which will include the local authority, we plan to involve local people and local multi-agency agency members in the work; looking to deliver a final report and outcomes that benefit the wider local community.
I ask that anyone who feels they contribute to the study to get in touch with me at Wider Impact'.