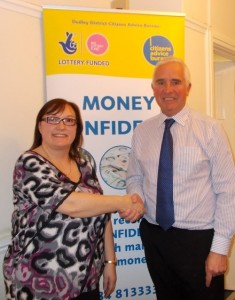 Wider Impact is pleased to have supported Dudley District Citizens Advice Bureaux with our independent evaluation of the Big Lottery funded Money Confidence Project.
Key findings /good practice includes:
Evidence of a SROI ratio of 1:32 in relation to the potential to support society / multi-agency benefits of  up to £8m
Monies gained for clients through advice / savings on gas, electricity and mobile phones, in addition to charitable grants, benevolent funds and the Warm Home Discount Scheme – current Project total over £47,000
Appropriate use of the respected CAB brand / reputation
Successful linkage between the Project and the role and functions of the [excellent] Dudley CAB Money Advice Team
The appointment of such well trained and committed Project Workers
The inspirational and professional role of the Project Manager (pictured left)
Front-line partnership working and client referrals
Wider Impact Director Edwin Lewis (pictured) says, 'It is always a pleasure to deliver such a positive report, which does justice to all those who have, and are involved in the development and delivery of such a successful project. There can be no doubt as to the influential role of the Dudley District Citizens Advice Bureaux has played in such success.
All those involved in the delivery of the Project and the evaluation should be thanked for their hard work, innovation, support and time, which is combined to deliver a highly successful Project, with the potential to deliver long-term and sustainable outcomes'.
Project Manager Liz Jones says, 'We would like to thank Wider Impact for the delivery of such a comprehensive and well researched report, which has been delivered in a sensitive manner, on time and within budget. We are extremely pleased with SROI findings, which is clearly an areas of expertise for Wider Impact. I certainly would not hesitate to recommend the company to others who are looking to carry out similar work'.
Please click on the button below to access the report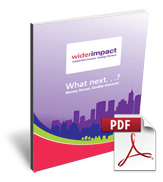 Looking to commission Wider Impact? Please complete the below sections and we will get back to you to discuss your requirements in depth.