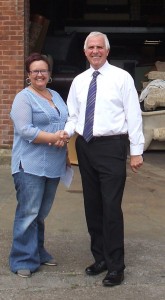 Wider Impact is delighted to receive praise for the quality of a mid-term evaluation of the Big Lottery funded Loaves 'n' Clothes Project.
Aims of the Project, which is being delivered by the Sandwell based Loaves 'n' Fishes Charity (see http://www.loavesnfishes.co.uk) include supporting those most in need, such as those leaving hostels, fleeing domestic violence and others in severe housing crisis, through the provision of furniture, household items and clothing whilst helping them build a home for themselves and their families.
Findings / Good Practice includes:
The Christian ethos / values of the organisation
Effective and meaningful partnership working / cross referrals with local agencies / organisations
The [local] role of the organisation / Project in meeting the appropriate needs of service users
The hard work, dedication and empathy towards service users displayed by all staff / volunteers
The full-time employment of previous services users
The opening of a high street shop
The appointment of a Volunteer Coordinator
The development of and the support provided to volunteers / long-term unemployed, which includes impressive and innovative Learning Programmes
Wider Impact Director Edwin Lewis (pictured) says, 'It is always a pleasure to deliver such a positive report, which hopefully does credit to all those involved in the development and delivery of the Project and the organisation as a whole. There can be no doubt that the Project is being delivered at the right time by the right organisation'.
Project Manager Anna Hartland (pictured) says, 'We were advised to use Wider Impact's services by a trusted source, and I am delighted to say we made a good choice. I remember meeting Edwin for the first time and I was immediately put at ease by his knowledge and easy manner. He had eyes and ears everywhere – in a good way, as he has a knack of sincerely listening to you, whilst at the same time being aware of what is going around him at all times. He facilitated a much needed organisational workshop, the results of which will help us forward plan as well as inform the evaluation process. We are delighted with his report, and have no hesitation in recommending Wider Impact, and Edwin in particular to others who may be looking to commission similar work'.
Looking to commission similar work? Please contact us using the below fields / link, and we look forward to discussing your requirements in some depth.