Wider Impact is delighted to receive praise for the delivery of our independent evaluation of Heritage Lottery funded Staffordshire Wildlife Trust Youth Engagement Project.
Our findings highlight that, 'There can be no doubt that the Project has been a success in terms of it achieving aims and objectives agreed with the Heritage Lottery. Agreed indicators have on the whole been met and in a number of cases impressively exceeded. There is also strong evidence that the Project has played a direct role in achieving Trust's aims to promote understanding, enjoyment and involvement in the natural world, delivering the overall objective and planned outcomes of the Churnet Valley Living Landscape Partnership (CVLLP)'.
Examples of good practice identified by Wider Impact include:
The level of multi-agency partnership working
A wide range of innovative and appropriate activities and initiatives
Opportunities to involve and develop the capabilities of young people
The formation of the inspirational Youth Rangers
Delivery of significant natural heritage improvements, including 500 trees, 2 new areas of native woodland, 2 wildlife gardens, 700 metres of post and rail fencing and 100 bird boxes
The engagement and motivation of young people with special educational needs
The role of the Project Manager, Martin Evans and his support team
Martin Evans, Youth Officer (Churnet Valley Living Landscape) says, ' We have been most impressed with the skills and professionalism of the Wider Impact team in carrying out a comprehensive evaluation of our Youth Engagement Project. Edwin ensured that all aspects of the project and outcomes were looked at and that, crucially, views were gathered from many different partners and stakeholders. The report was produced to a very high standard and clearly sets out future recommendations which will be very useful to us in future funding bids. Thank you and I won't hesitate to recommend you to colleagues for future evaluations'.
Please click on the image below to access the report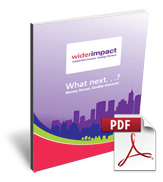 In conclusion report author and Wider Impact Director Edwin Lewis says, 'It is always a pleasure to deliver such a positive report, which does credit to all those involved in the delivery of the Project. Opportunity is taken to thank Project staff and all those involved in the delivery of our report and for their valuable time taken out of busy schedules.
Most significantly, thanks are passed onto the young people themselves who have clearly demonstrated how they have enjoyed and benefitted from the Project, and embraced what our countryside has to offer in terms of recreation and the wide variety of volunteering, careers and employment opportunities'.
Interested in commissioning Wider Impact to support your work? Please complete the below fields and we will get back to you to discuss your needs.