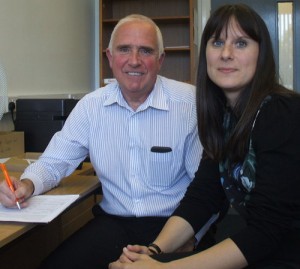 Wider Impact is delighted to be commissioned by Children & Families Staffordshire (CAFS) – see   https://www.cafstaffordshire.org.uk/ to independently evaluate the organisation's Big Lottery funded, Stoke on Trent based Helping Hands Project.
Pictured here with Senior Officer Natalie Ornelas, Wider Impact Director Edwin Lewis says, 'It is already clear that this project is something special and is supporting those who most value the support on offer. We are certainly looking forward to meeting as many stakeholders as possible, which will significantly include service users, volunteers and partner agency members.
Anyone who feels they can contribute to the evaluation is invited to contact me via our contact form: http://www.widerimpact.com/contact-us '.