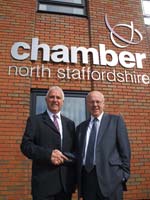 Building of over 5 years experience, Wider Impact continues to grow and develop, supporting organisations and local communities across the United Kingdom.
North Staffordshire Chamber of Commerce CEO, Bryan Carnes MBE (pictured right), says 'It has been rewarding to see Chamber member Wider Impact grow and prosper.
The company's success is clearly based on delivering innovative, high quality, value for money services. There is no doubt that the skills, experience and integrity of its founder and Director Edwin Lewis will continue to play a role in Wider Impact's future successes'.
Wider Impact Director, Edwin Lewis says, 'It has been a pleasure to support so many clients across the United Kingdom. Linked to austerity, we are now entering a period of challenges, which we have responded to. Our approach is now focussed on supporting organisations achieve two key outcomes:
Money Saved
Quality Assured
Agencies interested in commissioning Wider Impact can contact our team at enquiries@widerimpact.com