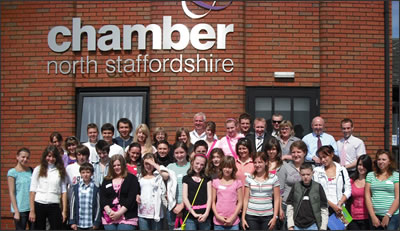 Building on a similar event held during the summer of 2008, students from the Sandon Business and Enterprise College Young Chamber have been joined by students from Vadym Hetman Kyiv National Economic University Ukraine and have been given the opportunity to develop and present business enterprise ideas at an innovative International Summer Enterprise Workshop. The event was held at the North Staffordshire Chamber of Commerce during August 2009.
Event sponsor Michelin and business 'expert' was joined by 'experts' from the Hanley Economic Building Society, Boommm and Anderen Ltd. Henson Editorial Services and North Staffordshire Press Ltd enabled the visit of the Ukrainian students visit to the area.
Cash prizes were presented to the business enterprises that presented the most complete business case; based on the information they had access to during the day delivered by the business 'experts'.
Dave Smith, of Michelin, says, "This is an exciting and innovative example of how the Business Brokers and local business can support our local schools and colleges. The day has been all the more special as we have had the privilege of welcoming students from the Ukraine to Stoke on Trent."