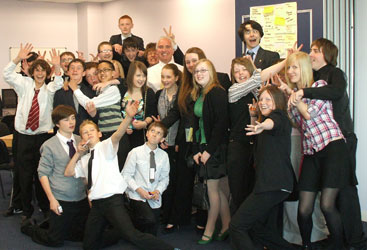 May 2010 Sandon Business and Enterprise College and Wider Impact are grateful for the support of local young entrepreneurs in enabling a series of innovative Make 'Your' Mark Days, when Year 9 and 10 students from the College have been provided with the skills to develop their confidence within an innovative and positive 'business' related learning environment.
Objectives of the day included developing delegate's personal skills and abilities in areas such as team working, learning from others, knowledge building, interviewing, questioning, researching, planning, visualising, expressing beliefs, body language, presenting and demonstrating a 'can do' and confident approach to life and future challenges.
Aims of the day included encouraging students to work in teams and as individuals, taking advantage of opportunities available in the form of 'business' workshops, attended by young business people / entrepreneurs from the local business community; aimed at demonstrating to the young people that they have the opportunities to develop the skills and confidence required to achieve their full potential!
Local companies and organisations represented include Michelin, Hanley Economic Building Society, Grisdale Lesniak Swann, Inspired Film and Video, Wonderweb Media and Helen Hughes, Life Coach.
David Lownds of Hanley Economic Building Society says, "This is an exciting and innovative example of how local business can support our local schools and colleges. The days have been all the more special as young entrepreneurs representing all of our companies have been passing on their own experiences of their education and progress through dynamic and successful businesses and organisations."
Irene Unwin, Sandon Business and Enterprise College Director of Specialism for Business and Enterprise says, "This is a wonderful opportunity for our students to meet young entrepreneurs, which will play a significant role in building their confidence and abilities to make the most out of their time at the College and future challenges and opportunities. We are extremely grateful to Wider Impact for arranging and delivering the days and would have no hesitation in recommending others to take advantage of what Wider impact has to offer."
Agencies interested in commissioning Wider Impact can contact our team at enquiries@widerimpact.com