Wider Impact Consultancy is pleased to add its support to the innovative partnership between Sandon Business and Enterprise College and the North Staffordshire Chamber of Trade and Commerce.
Young Chamber is being delivered by the Specialist Schools and Academies Trust in association with the British Chambers of Commerce and in collaboration with the National EBP Network, funded by the Department for Education and Skills.
Young Chambers provide a framework that brings together local Chambers of Commerce, business, schools and pupils, to develop and take forward enterprise initiatives within individual schools. They facilitate active business leadership and participation from local SMEs in enterprise education for pupils aged 14-19.
Young Chamber is now being rolled out across the country working with 51 Secondary Schools and over 75,000 young people.
Edwin Lewis, Director Wider Impact Consultancy says, 'We are delighted to be supporting this worthwhile initiative, bringing in our expertise in project management, partnership working and understanding of the role schools and young people in particular play in the regeneration of local communities'.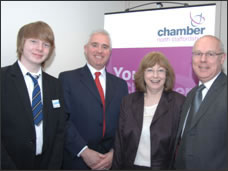 Picture:
Simon Barker, Sandon Business and Enterprise College, CEO Young Chamber
Edwin Lewis, Director Wider Impact Consultancy
Irene Unwin, Sandon Business and Enterprise College
Bryan Carnes, CEO North Staffordshire Chamber of Trade and Commerce