Wider Impact delivers innovative motivational days to Sandon Business & Enterprise College students at risk of under achieving at GCSE examinations.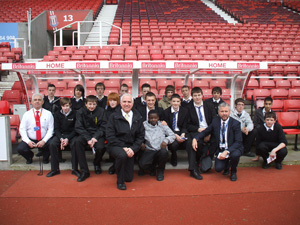 Stoke City Football Club, when male students were assigned as 'Journalists within an Aspirational sporting environment'.
Students got to meet and interview star players and 'backroom' staff, and ended the day with 'news reports' delivered to a judging panel.
Prizes for students (kindly donated by Stoke City FC) included an FA Cup qualifying game 'match ball', and signed programmes and photographs.
As teacher David Walsh points out, "The whole day was simply outstanding! I have never seen such a dissolute group of boys come together as well as they did….. the boys' attitude to learning seemed to improve no end. It was clear Wider Impact, in partnership with Stoke City have carried out a great deal of preparation for this day, which certainly paid off."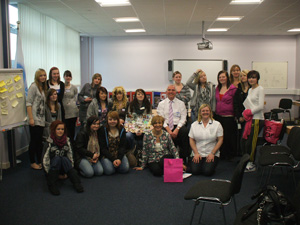 Girls Confidence Building Day
When female students accessed a 'Luxury Health Spa', and were provided with the skills and confidence to understand their 'natural beauty and self-worth'.
Building on a 'healthy lunch', other activities included seminars, workshops and discussions aimed at tackling key Issues, such as identity, personal presentation, self-esteem, body language, feeling good and healthy, motivation, risk taking, tackling stress and anxiety and the risk of under-achievement.
As teacher Miss Needham points out, "The girls realised that relaxation is important in order to succeed in examinations. Having business people there gave the girls other perspectives from people who have been there, done it, and done it well. The day was extremely enjoyable."
Agencies interested in commissioning Wider Impact can contact our team at enquiries@widerimpact.com
Click on the image below to view the Boys Day Final Report