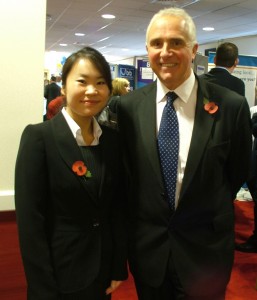 We are delighted to have played a key role in enabling our first Intern, Lily Li (pictured with Director Edwin Lewis) to gain employment with a leading North Staffordshire company.
Director Edwin Lewis says, 'Lily was recruited as part of the Graduate Advantage scheme, and has proved to be an asset to the Company in the role of Research and Marketing Associate. 
 She has been 'head hunted' by North Staffordshire Press, and we are delighted to have played a role, along with Graduate Advantage in supporting a Staffordshire University Graduate take this important step on her career ladder. Lily is certainly one to watch; and I wish her well!
We are now looking to recruit another Graduate as an Intern, as part of our commitment to 'put something back' and support talented young people into work'.