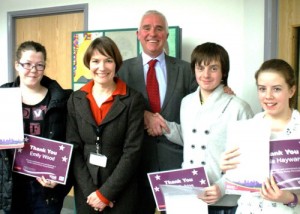 Wider Impact Director Edwin Lewis and Staffordshire Libraries & Information Services District Manager, Karen Yoemans (pictured centre) were delighted to formally thank the Norton Canes Libary Youth Ambassadors during a presentation of our indepenent evaluation of the Big Lottery funded Norton Canes Library Projects (see link http://www.widerimpact.com/november-2012-wider-impact-deliverers-an-independent-evaluation-of-a-local-library ).
As will be noted at link http://www.widerimpact.com/september-2012-wider-impact-listens-to-young-people the commission also involved researching into the feasibility of the formation of a Youth Advocates Group.
Key to the success of the research has been the involvement of the volunteer Youth Advocates, a number of whom (pictured) attended the multi-agency presentation evening.
Edwin says, 'The Youth Advocates should be proud of their achievements, and we are really grateful for their involvement in the commission. They are a credit to themselves, their school (Norton Canes High School) and their parents.  We wish them well, and are confident they will continue to do well in their lives'.
Please contact Edwin Lewis at edwin@widerimpact.com if you would like tike to learn more about this commisison.