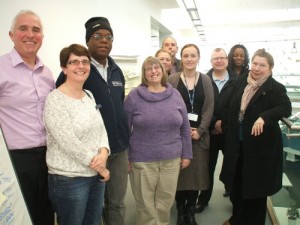 We are pleased to report positive feedback from a community consultation event held on the Alumwell Estate Walsall, which was commissioned by the Fair Share Trust and the Church at Junction 10.
Requested by Walsall Council, the 'What Next' event focussed on needs and opportunities, linked to the potential for appointing a Community Coordinator on the Estate.
Wider Impact Director Edwin Lewis (pictured far left) says, 'Whilst there is no particular funding available to support such a post, which was recommended in our Needs Analysis report (see link http://www.widerimpact.com/wider-impact-delivers-reports-aimed-at-supporting-the-on-going-regeneration-of-a-deprived-walsall-based-estate) the local authority is keen to gain and understanding of how such a post can support the on-going regeneration of the Estate.  The day, which was attended by a number of community groups and individuals (pictured) revealed a number of significant issues and opportunities. We are now looking to submit a report with recommendations to interested parties'.
Looking to contribute to the report?  Email Edwin at edwin@widerimpact.com
Link FST http://www.fairsharetrust.org/index.php/find_agent/details/6
Link Church at Junction 10 http://www.junction10.com/